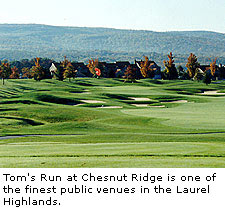 DESTINATION GUIDES
Pennsylvania Golf

Pennsylvania -- golf's
birthplace in America
-- is filled with history
Almost every golfer knows that St. Andrews, Scotland is home to the game's first course. What most don't know is Foxburg, a little town on the Allegheny River in northwestern Pennsylvania, is home to the oldest American venue.
In 1795, Samuel Fox, purchased seven warrants of woodlands high above the river. Almost a century later, his great grandson, Joseph Mickle Fox, traveled with "The Gentlemen of Philadelphia" to England for a cricket tournament. After the games, friends invited Fox to watch a golf match at St. Andrews. He was so taken by the game, he sought the fundamentals from The Old Course's keeper of the green, Old Tom Morris.
Fox returned to the states with clubs and balls. He invited villagers to play the eight holes he laid out on his great-grandfather's summer estate. The game was a hit with the newly rich, most of whom made their fortunes when oil was discovered in this region after the Civil War. Enthusiasm for golf grew so much, that Fox built a bigger golf course on his property. The nine-hole tract named Foxburg Country Club opened in 1887 and has been serving the public ever since.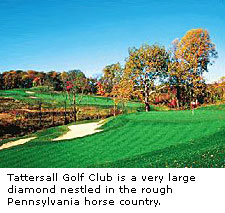 The log cabin clubhouse, originally a residence until it was purchased in 1942, is home to the American Golf Hall of Fame. No doubt, Pennsylvania native Arnold Palmer has his fair share of exhibits there. Palmer grew up in Latrobe, 80 miles south of historic Foxburg. His name is on everything in Latrobe from street signs to the regional airport.
Latrobe is in the center of an area known as Laurel Highlands. The courses there, like Champion Lakes, The Golf Club at Hidden Valley, Seven Springs Golf Club, Chestnut Ridge and Mystic Rock at the Nemacolin Woodland's Resort and Spa, are known for their hilly terrain and the dense forests that line the fairways.
Joe Hardy, founder of 84 Lumber and owner of Nemacolin, lured the PGA Tour into making Pete Dye's Mystic Rock a PGA Tour stop -- The 84 Lumber Pennsylvania Classic -- through 2006. An hour west in the Pittsburgh suburbs lies Oakmont Country Club -- home of the 1994 U.S. Open and the dreaded "Church Pew" bunker.
Oakmont is a private club, as are some of the finer clubs in eastern Pennsylvania. Golf history, championship or otherwise, is just as strong in this region especially the Philadelphia suburbs. Merion Golf Club in Ardmore has hosted the U.S. Open. It's where Bobby Jones polished off his grand slam in 1930. Pine Valley, on the New Jersey side of the city, is considered one of the greatest courses in the world.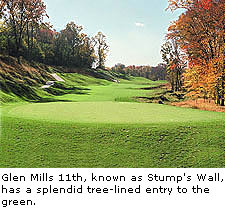 Playing any of those storied clubs is a rare treat, but the Philly area is full of great public tracts. In the Jersey suburbs, Scotland Run Golf Club in Gloucester County is a tough course that weaves through an old sand and gravel quarry. In Burlington County, Deerwood Country Club has a Carolina-wetlands feel because a marsh is prominently featured. Royce Brook in Somerset County has 36 holes, but only the East 18 is open to the public. There are so many sand traps here, it feels like Oakmont minus the lightning greens.
On the Pennsylvania side, the Golf Course of Glen Mills in Delaware County is a narrow, tree-lined design on the property of the Glen Mills School for Boys. The school is made of troubled youths trying to get back on the straight and narrow path, something every golfer should strive to impart on his ball at this course.
In the horse farm country of West Chester, Rees Jones -- The Open Doctor -- designed Tattersall Country Club. On a monstrous 350-acre plot, Tattersall is known for its steep elevation changes and a tough collection of par 4s. Downington Country Club in Chester County is fine parkland design authored by George Fazio. It's one of a few golf courses that discourages using carts, mostly to protect its facelift in 1995. Oxford is home to the Keystone State's best effort for a Scottish Links style course -- Wyncote Golf Club. The terrain features moguls, tall grass and deep bunkers.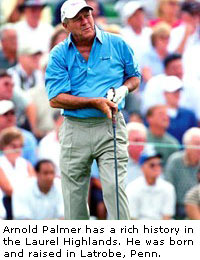 Moving north along the New Jersey border, the Lehigh Valley is home to affordable vacation golf. Golf in Lehigh Valley is located primarily in Allentown, Easton and Bethlehem, places that were known as factory towns. Most of those industries have long since moved, and golf has become part of the landscape.
Olde Homestead, just north of Allentown in New Tripoli, is known for hits hilly terrain. On the south side of Bethlehem, water hazards and bunkers await at Center Valley Golf Club -- named ninth best public course in Pennsylvania in 1996 by Golf Digest.
In central Pennsylvania, the town of Hershey is home to more than a chocolate family. The Hershey Golf Club, a 36-hole course open to Hershey Resort guests only, hosts PGA and LPGA tourstops. The fairways have been walked by the legends: Jack Nicklaus, Palmer, Byron Nelson, Sam Snead and Ben Hogan.
That's history worthy of the birthplace of American golf.
Pennsylvania Destination Guide
Philadelphia Area
Western Pennsylvania
Middle Pennsylvania
Othere